Kyle Hungate of Hungate Business Services explains how his team uses Highrise:
What We Do
At Hungate Business Services, we sell and service office technologies. We are an independent reseller that specializes in imaging products from the likes of major manufacturers including Xerox, HP and Lexmark. We're just a small family-owned business, but after 26 years we've been able to expand our services to clients all over the world.
Before Highrise
Before Highrise we used a proprietary CRM tool provided to us by our partnership from one of our suppliers. Even though the tool they provided had good information, it was complicated and cumbersome for most users. Plus to make matters more difficult, the software itself had not changed much in over 8 years - it lacked integration, flexibility and speed.
Highrise has filled all of these voids. Matter of fact, after just 2 weeks of using Highrise on a trial basis we quit the previous CRM system cold turkey. Starting from scratch was a little bit of a headache, but we've been able to realize some tangible productivity benefits in the short term.
How We Use Highrise
We use Highrise to get things done.
Client correspondence with our old system could take several minutes to navigate through a myriad of screens, prompts and different software to do the same things that Highrise can do in just a few seconds. We estimate that a simple sequence of locating a client, writing a note and adding a task can be done 80% faster than before!
Features We Use The Most
Aside from the obvious productivity increases we've realized, we really love the Tags and Deals functionality. The Tags save a ton of time for our salespeople when applying multiple Tags.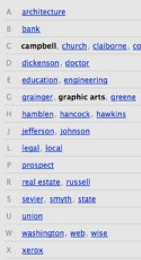 For example, we have Tags set up by geographic area and vertical market. So if we have a sales person who wants to call on the legal market in a certain city it can be done in a flash. With thousands of contacts, Tags may be the most powerful feature of Highrise for our team.
The Deals tab brings our company together in so many positive ways. We can see what's in the sales pipeline at any given time which helps us make better business decisions and allows our managers a quick overview of activity going on in our respective sales territories. Also, having the ability to assign categories is handy for inventory planning with the family of products and services that are getting more exposure.
What We're Looking Forward To
We're very excited about the Highrise app for iPhone. Version 1.0 has been a good start for the 37signals staff, but we know it's only going to get better. Bringing together mobility and information is critical for any sales team. With the iPhone app we'll be able to have a contract strategy like we've never had before.
We are also in the process of writing some scripts using the Highrise API to further integrate our business. Our goal is to connect our core accounting software and our web store into Highrise. Having a single point to see what's going on in our business has always been a dream. Fortunately with the help of a few talented developers and straightforward API documentation from 37signals, that dream should be a reality very soon.
The Bottom Line
Highrise has been a breath of fresh air for all of us at Hungate Business Services. Highrise is affordable, simple and powerful. All three of those adjectives describe what is necessary for any company in today's market to compete and prosper.
Do you use a 37signals product in an interesting way? Let us know.