Use a Palm or a Treo? Use Backpack too? You're in luck: Now you can access your Backpack account on the go with Satchel.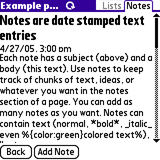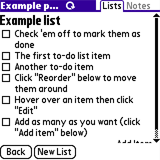 Create and edit all of your Backpack pages.
Manage and edit your Backpack notes.
Set reminders and automatically add them to your handheld's Calendar.
Import your existing handheld to-do items to Backpack.
Edit your Backpack items offline and update them all at once when you're back online.
And much more!
So if you're on Palm, check out Satchel today!